With car buyers relying heavily on online tools to find their next vehicle, the era of spending a Saturday going from dealership to dealership, kicking tires and collecting brochures is long gone. So, if customers aren't shopping dealerships, are they still cross shopping at all? How does your store add value to a customer's purchase process?
We polled Canadians and found that the average number of car dealerships visited during the vehicle buying process is 2.1 for new buyers and 2.4 for used. We also found that your customers are going to visit two or more stores while making a vehicle purchase decision, so the physical dealership still plays a very important role.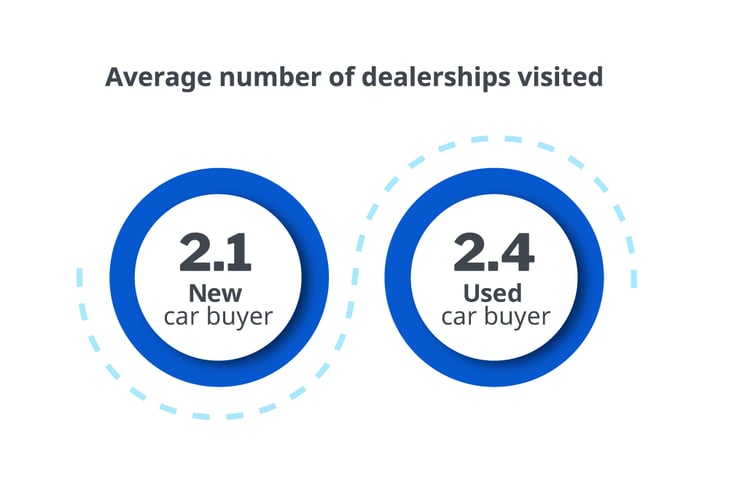 With this in mind, how is your dealership adding value? While half of car buyers say they're using a physical dealership to learn about vehicles, only 1 in 10 say they first discover the vehicle they want to buy there. Meaning that while your store is an important place for vehicle education, your customers have already found a vehicle they're interested in before stepping foot on your lot. They have likely done this through a listing site, car reviews, or even your dealership website, and now they need your expertise to see if it lives up to their expectations.
When it comes to cross-shopping vehicles, your online presence is helping car buyers decide what vehicle is right for them Your physical store then reaffirms what they've learned and helps them complete the transaction. While customers aren't cross-shopping dealerships to discover their next vehicle, they still need your help to learn about the vehicle they want to buy. Don't forget, the majority of car buyers are still going to visit more than one store during their search - let your expertise close the sale!