The secret's out — your customers know it's a seller's market.
In 2022, 40% of Canadian used car buyers who turned down a trade-in offer did so because they found a better one elsewhere. That's nearly double the portion of better offers taken in 2018, when the ball was still firmly in the buyer's court.
And you thought the Canadian real estate market was tough!
These savvy customers know their vehicle's worth and aren't afraid to take the time to get the right price.
On top of this, more than half of buyers who are trading in already have an idea of the number they want before they walk through your door. They've pored over listing sites, consulted trusted family members, and done extensive Googling to come up with that magic number in their mind.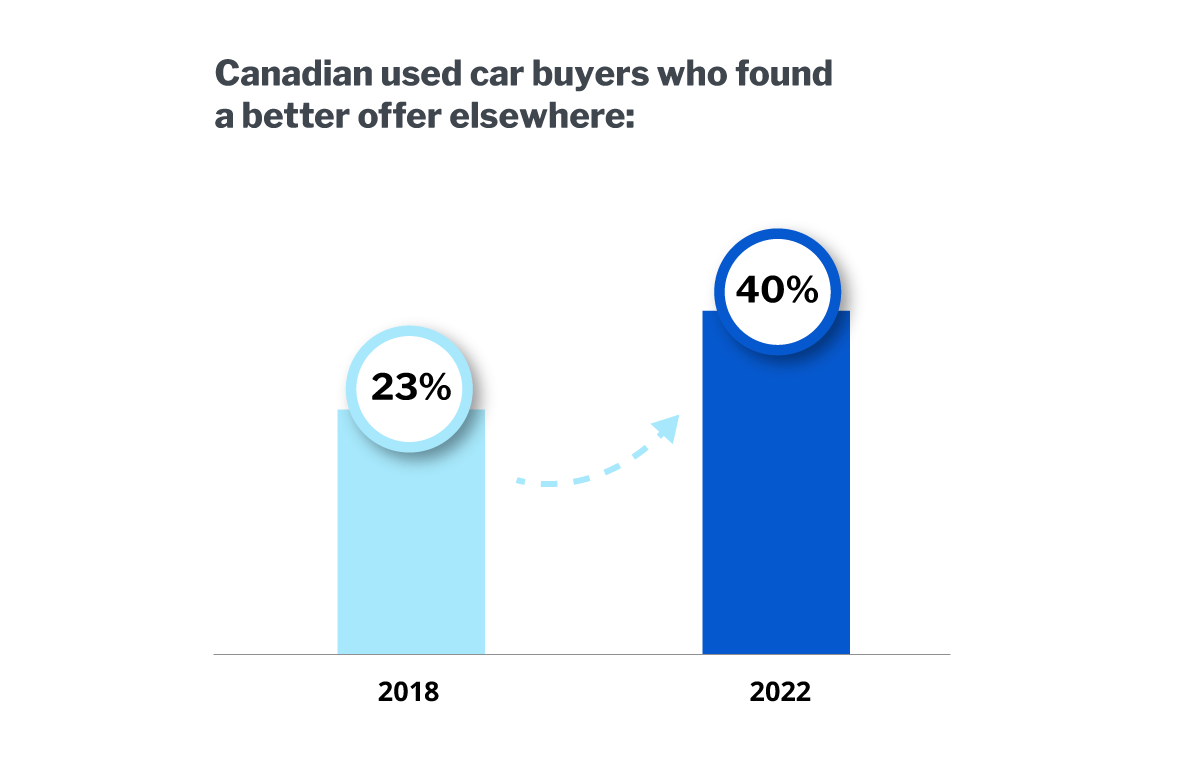 Closing the deal isn't always about the offer
So, what can you do to make sure your customer doesn't look down the road for the chance at a higher offer and become someone else's loyal customer for years to come?
Here are a few steps you can take:
Put a fair offer forward. Coming in too low is never a great strategy, and it's certainly not when it's a seller's market. If the specific vehicle the customer desires is on your lot, then you have leverage. Nearly half of customers who accept a trade-in offer do so simply because the dealer has the vehicle they want to buy.


Clearly justify your offer. Almost half of buyers want to see the work you did to get to your number (e.g. auction value, comparable sales, etc.). Your customer has their gut, advice from family, and Google research behind them. You have your professional knowledge, years of experience, and access to loads of vehicle data —put these tools to work!
Introduce some neutrality to the conversation. Nearly a third of used car buyers told us they want external, independent validation to give your offer more legs to stand on.


Keep in mind, customers may not explicitly ask for any of these things, but it's what they're mulling over while you wait for a handshake. They only told us because we asked them!
So be fair, proactive, and transparent with your trade-in offer. Give customers the information they are looking for right up front, and they'll have fewer reasons to put the brakes on your deal.